Straight-through processing, or STP, is a digital payment system used to automate transactions between corporations, banks, or individuals. Wealth management firms usually employ some form of STP technology as part of their new account opening process.
How does STP work?
STP automates the payment process from start to finish, simplifying transactions and reducing the potential for bottlenecks and human error. To illustrate the benefits of STP, let's review its impact on financial services processes.
STP can be initiated when a client submits a new account opening application via a digital form, providing their information to an organization's CRM. Alternatively, a financial planner may reach out to a current client to advise on a new investment opportunity, at which point they may consult the client's information in a CRM, populating that information into an application form to officially launch the process.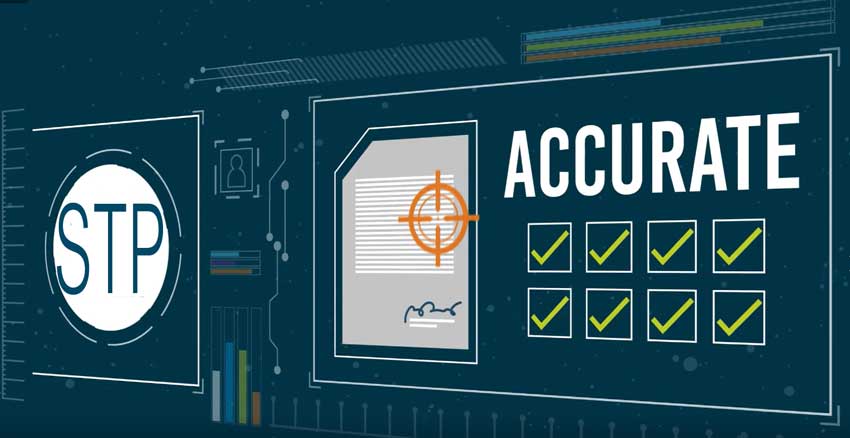 Financial planners must ensure that qualification questions are included and answered in the application process to ensure that the client is eligible for a new account or investment product. Responses to the qualifications are reviewed internally as part of fiduciary best practices client eligibility will be determined either as NIGO (not in good order) or IGO (in good order). This is an important part of compliance in STP, as this process helps to ensure that clients are investing in a product within their financial means. It also pinpoints potential hindrances to the process, such as financial fraud, at which point the IRS may become involved.
Once the client's eligibility is verified and deemed IGO, a signing process occurs between the client and the financial planner. The approved application is then routed to the clearing house by a broker-dealer to open the new account. Upon the generation of an investment account identification number, wire funds are transferred into the new account. Once the account is opened, the financial planner and all parties involved are paid for their services.
How to improve STP with an integrated system
Missing components of STP
While STP is a major improvement in the way commercial and financial services organizations manage payment processing, there are gaps in the speed, security, and overall efficiency of the system.
Linda Ding, Director of Strategic Marketing at Laserfiche, shared her insights from surveys she's conducted within the wealth management industry: A lot of financial firms and corporations already have STP, but only a fraction of firms that have implemented STP are satisfied with outcome. They have reported that their teams are not finding information quickly, not completing enough work, and not maximizing productivity as expected with their STP implementations.
Streamlining STP through a unified, integrated platform provides a solution to this challenge.
A digital content management system can improve the accountability, speed of search, workflow automation and information management involved in an STP system.
Laserfiche, an enterprise content management system, enables final services firms to perform a new account opening in less than 30 minutes.
Using integrated automation tools and a digital repository to improve STP
Our clients' NIGO rates have dropped to 0%, thanks to built-in workflow algorithms that ensure digital application forms are filled out completely the first time, says Ding. Automated notifications can also inform people involved in the new account opening when they haven't signed, reviewed or approved a step in the STP process. This results in more satisfied customers.
Upon the completion of payment processing, organizations also need to archive evidence of the entire process in a secure repository a feature that many STP systems don't provide. This may mean all documentation from a processed transaction must be stored in a WORM device, which requires staff to copy and paste information onto a potentially less secure physical drive. With payment processing tools like Laserfiche Vault, storage of payment transaction documentation is more streamlined and secure, and the STP cycle is fully complete. Everything stored and processed in Laserfiche Cloud can be locked down to meet SEC 17a-4 archival requirements with a click a button. Click here to learn more.
Learn how to improve financial business processes and bolster compliance efforts using secure, easy-to-use automation tools. Click here to learn more about Laserfiche Vault.
This article was originally published on the Laserfiche Blog. Laserfiche is a leading SaaS provider of intelligent content management and business process automation.