Fundamentally, content services are a collection of platforms, applications, and components intended to solve a variety of unique business challenges.
Providers of content services platforms may use the term enterprise content management to describe their offerings, given its familiarity with customers. Still, most modern offerings are considered content services, even if a particular vendor chooses a different term.
What's the Difference Between Content Services and ECM?
The fundamental difference between what was traditionally known as ECM and what is now content services is based on the concept of composition.
This concept formed out of the need for different, specialized user experiences based on roles. For example, the HR department has different demands on their enterprise software than the IT department " or to put it another way, help desk tickets and job applications aren't necessarily processed the same way.
Even with a robust process automation platform, you may want a specialized solution for that last mile towards an end-to-end user experience. Although traditional ECM could create unique views for different job roles, it was a separate destination. These solutions thus largely relied on importing content from external applications, rather than exchanging information with them dynamically.
With cloud solutions for specialized software offering low operating costs, and the increased popularity of integrations and APIs, a content services approach with the goal of including specialized content experiences becomes more attractive.
Composition, essentially, is the creation of a unique user experience through a combination of platforms, services and tools connected through APIs and other integrations. These unique experiences are thus a sum of the parts that compose them.
According to Gartner, these parts come in three main categories:
Content services platforms (CSPs):These platforms provide basic services, such as content storage, and can also act as a central hub that integrates and sends information between the other parts of a composition.
Content services applications (CSAs):These applications provide specialized services for a particular role, such as recruiting or IT.
Content services components (CSCs):These components provide a specific functionality, such as digital signatures or document imaging and are primarily designed to be integrated.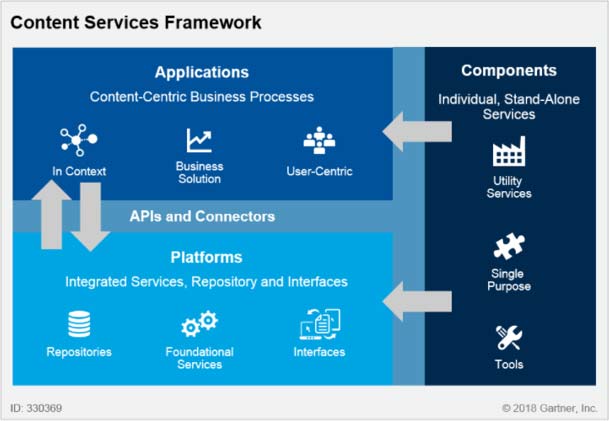 How Can Organizations Benefit from Content Services?
Organizations like yours can put content services into action by taking a proactive approach to integrating content with enterprise solutions you already have. Exploring opportunities to connect applications through APIs and other integration tools can save time and money while producing lasting operational benefits.
Integrating CSPs, applications and components is key to composing specialized experiences for different roles or departments.
Here are three examples of how software integrations can increase efficiency:
Contract management: Easily extract contact information from a CRM system into a CSP using workflow automation software, populate the information into a contract, and gather client signatures using a digital signature tool.
HR management: Quickly access all employee information from a single interface by integrating an ECM system or CSP with HR automation software.
Accounting and finance: Easily generate invoices by using process automation software to pull information from emails, PDFs or paper documents and send it to an accounting application.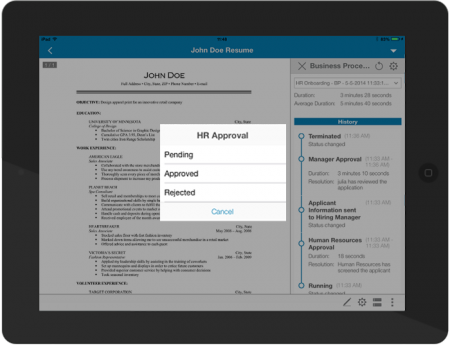 Platforms like Laserfiche can play a key role in composing your HR department's experience, by routing employment applications for review and approval.
Combining different CSPs, applications and components allows organizations to take advantage of what each solution does best.
For example, while an ECM system or CSP can excel for reviewing, marking up and protecting content, a CSA such as a student information system is already specialized to manage and process student data. Combining the advantages of both can make for a more seamless and efficient process.
Same Goals, Different Approach
Ultimately, traditional ECM systems and CSPs seek to achieve the same goals, but they each take a different approach in doing so.
While CSPs and modern ECM systems are aimed to integrate with other tools to create composed experiences, ECM solutions were historically designed for most or all content interactions to occur within a single system.
Whether your organization uses the content services to compose experiences or prefers a centralized experience of a traditional ECM system, it can gain valuable perspective by taking each of these solutions into account.
Want to learn more about content services and how it's shaping the future of the digital workplace? Get your complimentary copy of the Gartner Magic Quadrant for Content Services Platforms.