Take charge of your organization's future at the most inspiring digital transformation conference of the year. Join us online Feb. 7 – 17, 2022.
Empower is where leaders come to get inspired. It's a celebration of how technology can transform lives, and how, in the right hands, it can drive change within individuals, organizations and the global community.
Join us this February for breakout sessions, hands-on training and keynotes designed to help you be a pioneer in the new world of work. Plus, get a first look at what's ahead for Laserfiche and the future of content services.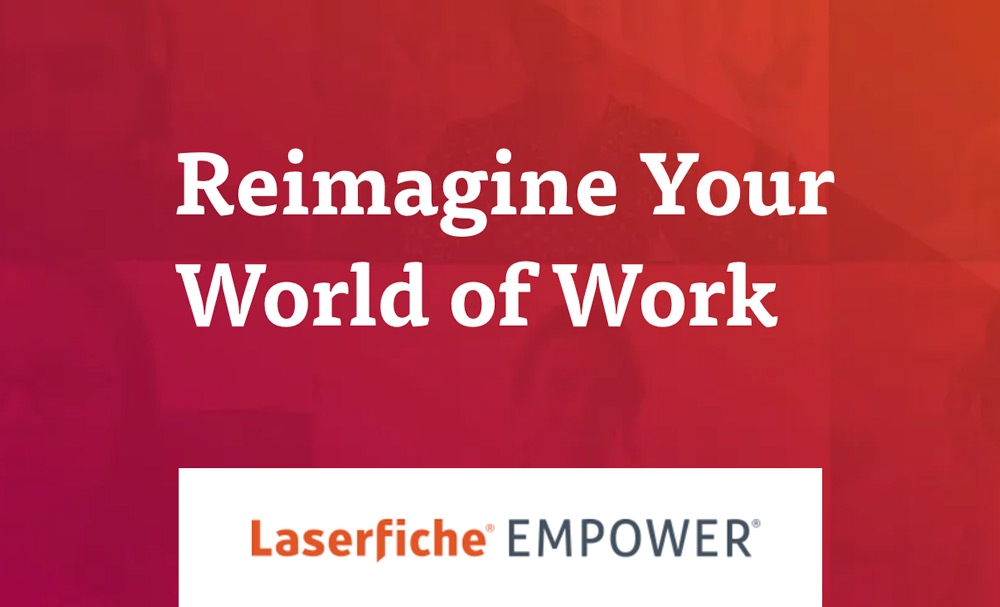 Explore New Ideas
Hear from innovative leaders with advice on how you can reimagine your world of work and leverage the power of technology to transform lives.
Attend 8 keynotes designed to inspire you to drive change.
Explore strategies to take on tomorrow's challenges, drive impactful change in the workplace and empower your career.
Build your network with live Empower experiences throughout the week, including meetups, user groups, networking groups, product Q&As, coffee chats and more.
Expand Your Vision
Join today's innovators at the Executive Leadership Summit to discuss tomorrow's ideas, connect with fellow changemakers and explore strategies to stay competitive in the new world of work.
Engage with industry experts, Laserfiche customers and partners, analysts and journalists from around the world.
Share your ideas and discover new ones as you collaborate with other leaders and changemakers.
Strategize for today's challenges and what lies ahead with a global network of professionals inspired to drive change.
Reach Your Goals
Discover the full capabilities of the Laserfiche platform, explore the latest product developments, and help shape the future of Laserfiche while engaging directly with our staff.
Be the first to preview the newest developments coming to Laserfiche.
Meet Laserfiche developers and boost your technical knowledge of the platform.
See how to get the most out of Laserfiche with interactive, live hands-on lab training.